Welcome to North Middle School!

North Middle School is and will continue to be a caring, progressive, educational environment where students have the opportunity to develop to their highest potential and become prepared for the next level of education through mastery of academic, social, cultural, and physical endeavors.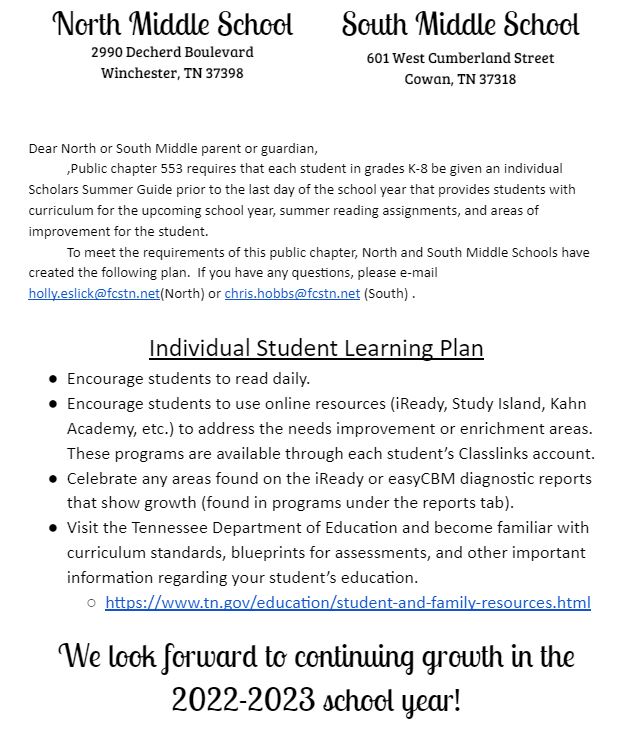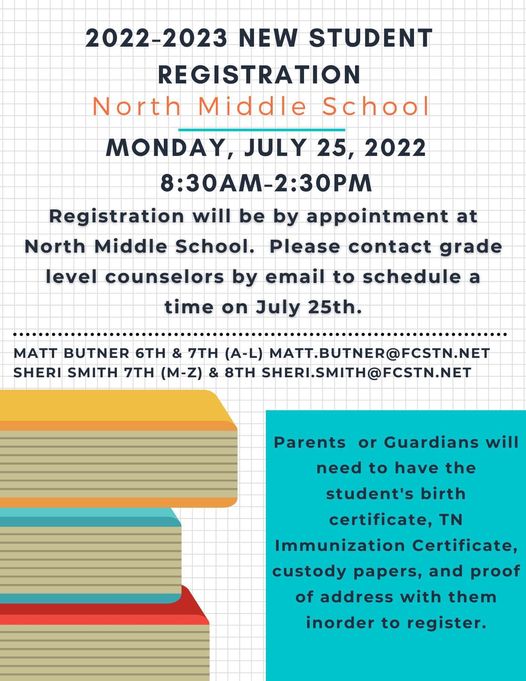 NMS Pictures and Current News-School Year 2021-2022
2022-2023 NMS Sports and Coach Contact Information
Boys Basketball, David Powers dmdcpowers@aol.com
Boys Soccer, Matthew Parkerson mparkerson@corelogic.com
Cross Country, Rachel Cunningham rachel.cunningham@fcstn.net
Track and Field, Rachel Cunningham rachel.cunningham@fcstn.net
Volleyball, Zach Howard zacharee.howard@gmail.com
Football, Will Hyden hyden.will@yahoo.com
Softball, Allison Vincent allison.vincent@wcaedu.net
Girls Basketball, Tammie Tobitt tammie.tobitt@fcstn.net
Girls Soccer, Jacob Cashion coachjake@charter.net
Baseball, Darrell Jolley 931-581-1034
Golf, Cynthia Meinerding cjmeinerding@yahoo.com
Students must bring a current physical or have one on file in order to try out.
Physical forms can be found at https://content.schoolinsites.com/api/documents/1dea6472eefb4cba869a7ee33a6be503.pdf
Check for updates and more information on our website www.northmiddle.fcstn.net or on our Facebook page (search@nmsfranklincountytn).
Questions? Please email the specific coach for that sport or rachel.cunningham@fcstn.net for general athletic questions.

News
---